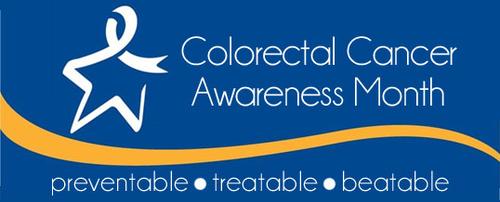 March is National Colorectal Cancer Awareness Month and this is a good reminder to get that colonoscopy scheduled. Are you due?
As healthcare providers, we are in a good position to help encourage our patients, friends, and family members to get regular colorectal screenings, but are we practicing what we preach with ourselves?
In a previous blog, I ranted about my mammogram paranoia, but do you know how long it took for me to actually schedule that appointment? Well, the order was written in March 2012 and I just had the mammogram done in February... 2013. Yes, I know, ridiculous, and I should know better, but sometimes life gets in the way of maintaining good health -- blah, blah, blah.
I really don't have a good enough excuse for delaying the mammogram except forgetfulness and making everything else a priority except for my health. In the end, all this really did was add to my anxiety by waiting so long to have the procedure done.
I don't want to deviate from the topic at hand here, but this is a prime example of what we do: We take care of others and neglect ourselves.
I can understand why people delay having a colonoscopy done. Let's face it, the prep is the pits. But it's one day every few years -- easy for me to say considering I've never had it done. I have not yet reached the recommended age of 50 for colorectal screening, but should we be waiting that long? It's like waiting until a woman is 40 to have her first mammogram. I strongly discourage any woman waiting until they are 40, but I do not sit on the US Preventative Services Task Force.
So tell me, what are your lame excuses for not following through with cancer screening tests? Are you going to be one of the thousands of patients diagnosed with advanced cancer simply because you didn't follow up like you should have?
Well, one answer that comes to mind is that our profession is already experiencing an oncology nursing shortage -- let's not add to it by neglecting ourselves.