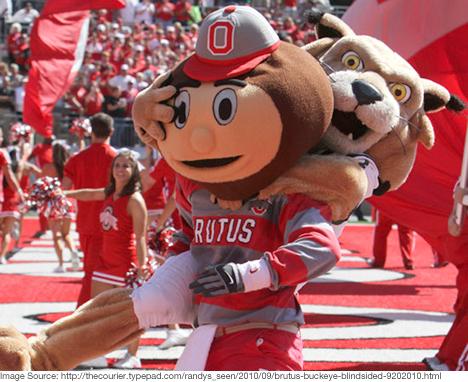 I attended a meeting this past week for work, and the trip got me thinking about what my dream job would be.
No, I have no plans on resigning from my current position. The woman on the other end of the phone for the hotel rewards program helped triggered this thought.
To obtain free WiFi access at the hotel, I had to register with its rewards program. Once the woman took all my information, she asked what my dream job would be. (This would be the security question in case I forgot my username and password in the future.) My response was "a veterinarian." But then I started thinking of other jobs -- jobs that may be more fun and less stressful, like a mascot.
During my college years, I found myself becoming envious of all the mascots at the football games. You can dance around and act like a complete idiot in costume, and nobody knows who you are. This is an easy way to become a local celebrity among college sports fans, but obviously this career choice would hardly support a family of four, so I went back to studying biology, chemistry, and physics.
My dreams of becoming a team mascot were shattered, and, judging by the attached image, that could have been a violent career choice, so I selected healthcare. It's a decision I do not regret.
After I obtained my biology and nursing degrees, the next step was medical school. After suffering through the MCAT -- an exam that gives no indication of how you will learn and perform as a physician -- I continued with clinical practice and into research. I might have performed better on the exam if I had been allowed to take it while wearing a mascot costume. A little team spirit never hurt anyone.
As technology emerged, navigation systems gained popularity, especially among those who frequently found themselves lost in a back alley somewhere or had no idea how to read a map. I'm pretty good with directions, but it was reassuring to have someone talking to you in the car while driving alone. I decided I wanted to be that voice -- the voice behind the navigation. I would finally be that person to tell everyone else where to go.
Well, as it stands, I've grown up and have moved on to become an editor of a fantastic oncology community. Where could I meet a more intelligent, engaging, and caring group of people? Besides, who else would take the time to sit here and read my ridiculous blog post?
I may not be a veterinarian, a mascot, or the female voice behind navigation. But I am still an avid pet lover, I love to dance around without a costume on, and I can still communicate with the navigation system when her so-called directions land me near the edge of a pond somewhere.
It's hard to know what the future holds for any of us regarding our career. While we continue to make choices, good or bad, just remember to enjoy the ride. You may be there for a reason.