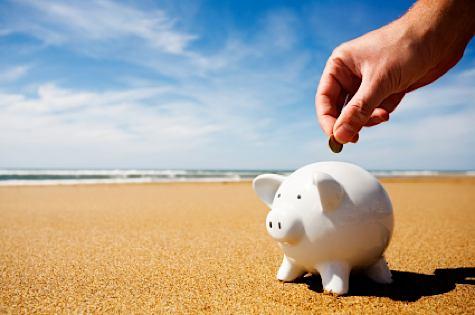 For those of you who find yourself placing drink umbrellas in your morning coffee, adding tiny shampoo bottles to your bathroom, and shopping online for tacky pink flamingos, it may be time to get the heck out of dodge!
It is January, and for some of us, it has been downright cold this week. For others, you may live in a warm climate all year long and have never experienced a wind chill of 10 below zero -- the best description I can offer is the sensation of having your faced whipped by hundreds of sharp, tiny icicles.
Many of us desire to visit a tropical oasis this time of year but with the holidays just behind us, our bank accounts may leave us feeling like the only sand we are going to walk on anytime soon is quicksand.
Well, I would like to tell you that you only live once and why not add this to your list of New Year's resolutions. If you are like me and don't make resolutions, just call it something else, like "a vacation that I deserve." What a crazy idea, eh?
There are many ways to cut down on costs associated with paying for a vacation. Here are a few tips that I use and others seem to find helpful as well:
Get a passport: If a good deal comes along, you'll be ready! Besides, having a passport in close sight may help give the nudge you need to treat yourself to something special... like a much needed getaway.
Be cleaver with flight times: Booking a flight on a Tuesday, Wednesday, or Thursday tends to be less expensive than Friday through Monday flights. Also, keep in mind that if your destination is a warm climate, booking a vacation after Easter may cost less. In addition, travel costs during the major holidays will run you top dollar. I won't even tell you how much my airfare cost to Australia over the Christmas holidays last year!
Pack light: For those of you taking a mini vacation, try to fit all of your items into one carry-on suitcase. This way, you will not be charged for additional checked luggage.
Stay away from hotels if possible: Check out websites such as VRBO and HomeAway. Renting a vacation home or an apartment instead of a hotel may offer all of the amenities you need at a lower cost. Besides, having a fully functioning kitchen will cut down on dining out expenses.
Hang out where the locals do: Let's face it: If the locals go there, it must be good.
Split the costs with friends: I know what you are thinking: Vacationing with friends may be a quick way to end the relationship. But it is also a way to cut down on food expenses and car and vacation rentals. So if your travel buddies quickly become annoying, remember, there may be a liquor store close by.
Skip the tours: Don't get caught up in the gimmicky travel tours. Some of these are just an expensive tourist trap and many you can do on your own, like hiking. I would advise you to stick with a tour guide when you are going to do something like zip-lining though. Not a good situation if you are 300 feet up in the air and your harness is not attached properly. Remember, funerals are not cheap either.
Car rental insurance: If you are renting a car while on vacation, oftentimes car rental agencies will "highly recommend" that you pay for additional rental insurance and they will tack on the cost when you are not looking. There may be some countries that require this because your personal insurance may not apply. Otherwise, you should not be required to pay. Be sure to research this ahead of time.
I know vacations can be very costly, but sometimes it is worth the sacrifice. If my words have not been inspiring enough for you to take that next step in planning a vacation, perhaps your cancer patients can offer you a bit of encouragement.