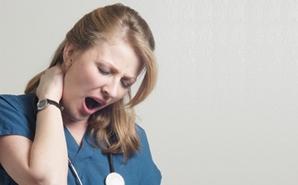 As I sit here typing away at my computer, I'm operating on four hours of sleep.
While this sleep deprivation has not decreased my work productivity, it will eventually catch up with me in ways that will ultimately have an effect on my work and/or my personal life and almost certainly on my mental health… and nobody wants to deal with another Italian woman with an attitude problem.
While making my way through all of the social media sites, as I normally do on a daily basis, I came across a LinkedIn article titled: Get Some Sleep! Five Ways to Drift Off. Hmm, is this a coincidence?
Apparently, employers lose an estimated $63 billion when workers are sleep deprived, which may cause them to perform poorly. As a healthcare provider, you may not feel that you are a part of this billion-dollar loss, but in fact you may be.
You may not be selling a product per se or working on a factory production line, but no matter how you slice it, time is money.
How motivated are you to administer treatment in a timely manner or keep the clinic patient appointments on time when you've had less than an adequate night's rest?
Failure to administer therapy on time may cause a discharge delay resulting in another overnight hospital stay. Worse yet, a delay in treatment may cause the patient to become more critically ill… and we all know critically ill patients are not cheap.
And let's not forget about one of the worst outcomes that can from sleep deprivation -- medical errors. We all know that when we are not at our best, the risk of medical errors can increase significantly. The cost to you, the patient, and the institution can cost thousands, even millions if death is the end result.
Aside from patient care, how many times have you sat behind the wheel of a car on your way to work with only a minuscule amount of sleep? This is not only a dangerous situation for you, but for others on the road as well.
So what can we do to minimize our lack of sleep and provide a productive and safe work environment for all? Here are a few tips Rita J. King, author of the LinkedIn story cited above, that may help you to drift off to sleep faster.
Exercise: This is especially true when you exercise in the morning. It may help with concentration during the day and cause you to drift off to sleep faster
Keep a to-do list: Prioritizing a long-term and a short-term goal list may help to minimize stress at night. A list showing what you have already accomplished opposed to how much you haven't may remove some of the worry late at night.
Worry less: Yes, I know what you are thinking, but the more sleep you get, the more energy you will have the following day to help tackle those stressors.
Don't watch movies or TV: Watching movies such as Flashdance or Rocky before bed may not be the best idea. They may stimulate the brain too much, and you may have the compulsion to grab the iPad off of your nightstand to order the latest pair of legwarmers or even order the Eye of the Tiger album. If only I'd had an iPad in 1982…
Think big thoughts: Although this may seem counterintuitive, if you can't shut your brain off from daily concerns, think about something that you don't normally think about, such as, astrophysics. This may put you right to sleep… unless you're Stephen Hawking.
How does sleep deprivation affect you in the workplace? What tips do you have to help all of us to sleep better?