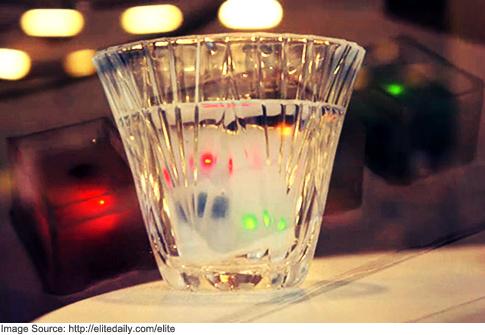 A graduate student at the Massachusetts Institute of Technology (MIT) has developed a party product with potential: LED alcohol-tracking ice cubes.
Yes, that is correct -- ice cubes that are capable of tracking your alcohol intake!
After an evening of drinking at a college party, 23-year-old MIT graduate student and researcher Dhairya Dand learned his lesson once he landed himself in a local hospital bed due to excessive alcohol intake -- he had suffered an alcohol–induced blackout.
Now, before you judge Mr. Dand, I suggest you take yourself on a memory walk down college party lane. If not a college party, then I'm sure some of you have experienced a little overindulgence at the annual holiday work party...
Once Dand recovered from his hospital stay, he found himself in the research lab at MIT creating his next invention, known as Cheers: alcohol-aware ice cubes that glow and groove to music.
These innovative, waterproof tracking cubes change colors if you have had too many drinks. In other words, the ice cubes change as they respond to the amount of alcohol a person consumes via an accelerometer, which keeps track of how often the glass is raised to someone's lips. This tracking device uses a timer to help estimate how intoxicated a person is.
The LED that is located inside each cube is capable of changing colors consisting of green, yellow, and red. Green signals a first drink, yellow offers a warning sign that your alcohol consumption is increasing, and red is the indicator to stop drinking.
In addition to the cubes' colorful signaling abilities, they can also send a text message to friends if the person drinking is in need of help.
OK. So how is this smart cube able to communicate with others? Well, apparently the cube talks to your phone by communicating over infrared light (IR) with a custom, removable IR receiver fitted on the Smartphone's audio jack. Ingenious!
I'm sure most of you are thinking that this is probably an expensive device, but according to Dand, it cost around $50 to create and he has no plans to patent it. Dand believes patents are "20th century jargon."
So Dand is currently working on a budget-friendly idea that may be affordable for graduate students, which in the end, may be much cheaper than an unexpected hospital visit, or worse yet, a fatality.
For some of you, the upcoming weekend may consist of taking part in a spirit-filled festivity or a quiet evening at home watching The Notebook with a liter of wine... which I don't recommend if you are single.
Regardless, please be safe and realize that you probably don't need an electronic ice cube, an app, or even a breathalyzer to let yourself know that you are intoxicated. Compulsive hugs, telling strangers that you love them, and inappropriate texting is probably warning enough that you have reached your limit and that coffee should be your next beverage of choice.
References: