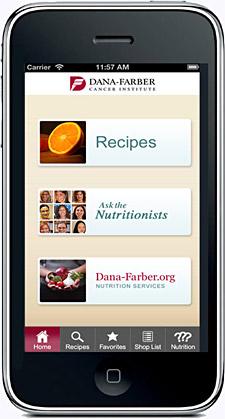 The team at the Dana-Farber Cancer Institute has launched a new app that may prove to be beneficial for cancer patients and others who want to have a healthy diet.
Cancer patients face many challenges with their disease and treatment, and unfortunately, nutrition seems to be one of the biggest challenges.
With the help of Dana-Farber's nutritional support team, they have developed a free and easy-to-use iPhone app that provides cancer patients with recipes and nutritional information tailored to fit their needs.
Steven Singer, senior vice president for communications at Dana-Farber, said in a news release:
We developed Ask the Nutritionist: Recipes for Fighting Cancer to encourage and empower cancer patients, and others, to explore and enjoy healthy eating habits. Studies have long shown that good nutrition is tied to good health, and, for those with cancer, treatment side effects can make eating well a real challenge.
The Ask the Nutritionist program offers hundreds of easy recipe ideas ranging from healthy snacks to main dishes and desserts. App users can access recipe ingredients, directions on dish preparation, nutrition tips, and information in USDA format, along with providing a shopping list, all at your fingertips.
If you are concerned with tiring out the same old recipes, don't be. New recipes are added each month, which even include specialized diets such as gluten-free.
Since the app was designed by Dana-Farber's staff of registered and board-certified dieticians, cancer patients may find a nutritional plan that's specific to their needs. In other words, for a patient who is receiving treatment and is experiencing symptoms such as mucositis and/or nausea, the nutritional app will provide information as to what nutritional option may work best for those particular symptoms.
It is also important to note that this app is not only for cancer patients receiving active treatment; it is also helpful for the cancer survivor who prefers to stay on a healthy diet plan.
Stacy Kennedy, MPH, RD, CSO, LDN, a nutritionist at Dana-Farber, said in the news release:
Eating a well-balanced diet is one of the best ways to lower the risk of cancer. Our hope is that this app will not only be a useful tool for cancer patients and their families but will also make choosing the healthiest foods easier and more fun for everyone.
Have a question? No problem. Because not only does the app provide on-the-go access and specialized nutrition support, it also has a question function in which the nutrition department at Dana-Farber will provide answers to any questions the user may have.
Does your cancer program offer an app similar to the nutritional app provided by the Dana-Farber Cancer Institute?