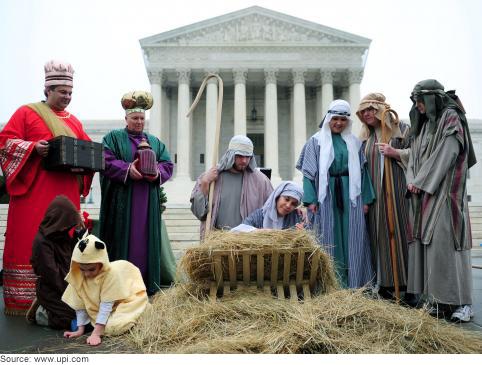 It seems that the public display of Nativity scenes has been creating quite a stir lately among the nonreligious and those who do not practice the Christian faith.
Would you consider Christianity the standard and anyone's belief outside of this part of the minority? Does the majority prevail when making decisions to display a Nativity scene in a public place such as a park, a school, or a courthouse lawn?
Some may argue that this country was founded on Biblical principles, and that religious freedom of speech should be allowed. But the Freedom From Religious Foundation (FFRF) may say otherwise.
In a nutshell, the FFRF is a watchdog organization working to maintain the separation of church and state. One of its court victories consisted of the removal of a Nativity scene from a city hall.
Though the FFRF is against these types of religious displays on public or government property, the reindeer rule basically states that it is acceptable to display a Nativity scene as long as there are secular items on display, as well, such as a Christmas tree, candy canes, or a snowman.
Both sides are fighting for equality and freedom of expression, from a religious or nonreligious standpoint. Some argue that there is inequality when Nativity scenes are being taken down while Hanukkah and Kwanzaa decorations remain.
For those of you who are avid Christmas carolers, beware of what and where you sing. Belting out "O Little Town of Bethlehem" on public or government property may lead to a very silent night for you.
What do you think? Has this fairness gone too far on both sides? Are we considered solely a Christian nation? Are we unable to express other beliefs, religious or nonreligious?
If you cannot take a stand on either side, your best bet may be to celebrate Festivus with the rest of us, because having an aluminum pole in the middle of your living room is just as beautiful as an overly decorated Christmas tree -- said no Griswold ever.