October is Breast Cancer Awareness Month, and if you are already becoming overwhelmed with the sea of pink, there may be a sexy new alternative to help create awareness.
Many of us have the good intention of performing self-breast examinations and scheduling routine mammography followups, but let's face it. We get caught up in our busy daily routine and forget to stay on top of our breast health. Well, there are no more excuses. If you have a smartphone, Your Man Reminder may be just the app for you!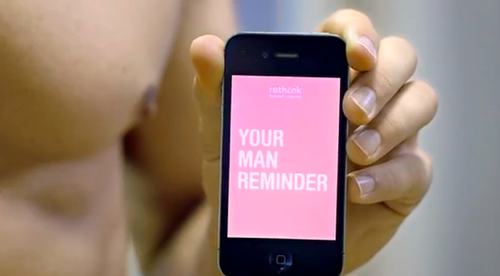 This hot little app may be just what you need if you are in search of some TLC -- touch, look, and check, that is -- and can be customized for your personal liking. It lets you send yourself flirty messages (from the sexy man of your choice) reminding you to give your breasts some TLC. It can also populate your calender with weekly or monthly reminders (again, from the sexy man of your choice) to perform self-breast exams. The app also includes a tab on signs and symptoms and a variety of scheduling options you can use for notes and doctor's appointments.
If you love this smartphone app and want more, then you can Like it on Facebook -- no need to restrict breast cancer awareness to pink ribbons only!
All sexiness aside, Rethink Breast Cancer, the Canadian charity behind the app, hopes to create awareness not only among women older than 40, but also among the younger generations. Targeting younger people via Facebook and smartphone apps may help to create a new wave of breast cancer supporters and, more importantly, support the unique needs of women who are younger than 40 but are at high risk for developing breast cancer or even experiencing a breast cancer diagnosis.
If Your Man Reminder does not appeal to you, Rethink Breast Cancer offers a variety of educational resources on topics ranging from oncofertility to discussing breast cancer with children and young adults.
What unique ideas can you share that will help provide support for breast cancer awareness?