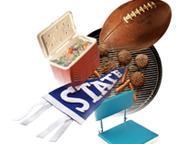 Itís football season once again, and if you're like me, you love this time of year. I look forward to watching the Ohio State Buckeyes go head to head with the Big Ten conference teams, or the Pittsburgh Steelers battle it out at Heinz Field. And if you're a University of Michigan Wolverines fan or a Cleveland Browns fan, thatís OK, there are plenty of tissues to go around.
Whether you're a football fan or not, you have to appreciate the food and beverages that accompany many of these events, especially tailgating events. Who wouldn't appreciate a day of food, beverages, music, and a good game of Cornhole in the parking lot of your favorite college or NFL team? (I do believe my Midwest colors are showing as many of you probably have no idea what Cornhole is.)
As much as I love this time of year, my waistline does not. Letís face it; we attend these events not only to watch our favorite teams play, but to indulge in the fattening foods as well. I donít know about you, but a table full of cheese dips, hotdogs, and apple pie seems much more appealing than a table full of carrots, turkey, and so-called dessert bars that resemble a hockey puck -- and this is football, so nothing should resemble a hockey puck.
Donít get me wrong, I love to eat healthy food, but many healthy food options just donít seem to go hand in hand with football parties. So I took it upon myself to find some fun, tasty options, without all the excess calories. Do I have your attention now, ladies?
Here are a few low calorie recipes ready to tackle gameday overindulgence:
Portion control is another important thing to keep in mind, especially if you find yourself snacking during every commercial break or at the end of each quarter. Itís difficult to monitor portion control when you hit the food table at frequent intervals. Before you know it, you've had six to eight plates piled high with chips, dips, hamburgers, and chocolate chip cookies.
Another tip to keep in mind: If your football party contribution involves bringing a six-pack of your favorite fermented beverage, there are plenty of low-calorie options. These low-calorie beverages may not actually give you a six-pack, but it could be the beginning of having a tight end... and that is the end of my football humor.
Since I'll be spending most of my weekends from now through January watching men run around a football field and tossing the pigskin, I would appreciate your tasty, healthy recipe ideas. We would all appreciate them!
Go Steelers!