Newswise recently reported on a poll of Americans 65 years and older. The majority (51 percent) of respondents said they take at least five prescription medications on a regular basis. And 57 percent of the respondents said they forget to take their medicine as prescribed.
This problem is not limited to the elderly population. It may not occur as often with younger people, but it still happens. When you take certain medications on a daily basis, it becomes such a habit that you often forget whether you've taken your dose for the day or not -- I've done this myself! I tend to error on the side of caution and underdose rather than overdose (depending on what the medication is), though this may not be recommended for your cancer patients.
It is important for patients, especially oncology patients, to take their medications correctly. Some of these patients are very ill and require around-the-clock medication or even oral chemotherapy administration. If these patients don't follow proper medication adherence, it could lead to poor symptom management, leading to a hospital admission.
Many patients use pill calendars or daily pill containers labeled with the days of the week. This may be helpful, but patients may make an error when refilling their containers. They may even forget to refill them.
I recently learned of RXMap, a robotic packaging system used by pharmacies. It will dispense individual doses of medications in clear, sealed punch card packaging (which can be perforated for travel).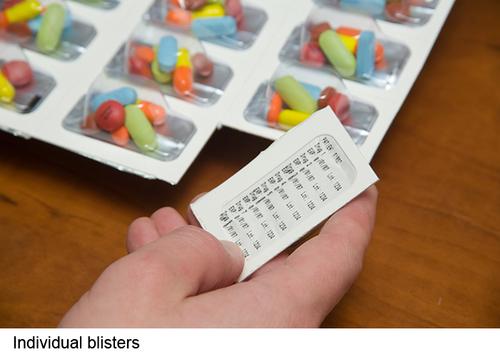 I thought this was a great idea not only for patients who may forget to take their pills, but also for patients who are on oral chemotherapy medications. This may reduce the possibility of others in the household coming into contact with these particular chemotherapy drugs, since they would be individually sealed.
I'm sure this is a more expensive method to dispense medications than standard practice, but how many hospitalizations occur due to improper medication adherence or errors?
Do you feel oncology patients would benefit from this type of pharmacy packaging?