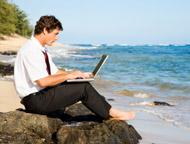 I recently read an article in USA Today about why people no longer feel rested after taking a vacation, and I thought to myself, "How true."
The article says that vacations aren't as rejuvenating as they used to be, because more people are spending more time working when they are "off the clock."
A survey asked 1,000 workers in a range of professions about their vacation habits. The results were, well, unfortunate to say the least. Nearly 60 percent of the respondents said that "taking a vacation doesn't relieve their stress," USA Today said. "And more than a quarter say they're even more stressed when they return to work after taking time off." Sadly, only 25.8 percent of respondents ceased all work-related activity while on vacation.
In another US employee survey released this month, more than half the respondents said they will work during their summer vacation. The majority of the 2,000-plus workers said they would be reading emails, taking phone calls, and performing other work-related duties while on vacation.
I know many people feel taking a vacation from work is more hassle than it's worth. You spend an enormous amount of time before and after vacation preparing and catching up. In addition, many folks feel guilty if they don't check work-related emails while away -- they don't like the feeling of having tasks put on hold due to their absence. Also, many don't like to burden their fellow co-workers with tasks that can't wait for a week or two until the employee returns to work.
Personally, I believe it all comes down to feelings of guilt by employees. By definition, the word "guilt" means "the fact or state of having committed an offense." The last time I checked, taking a vacation is not considered a criminal offense. But employees are often made to feel guilty by their employers and co-workers when they request time off. Employees may be made to feel like they're abandoning their duties, and they may then feel obligated to work during their vacation if it is approved.
I know we are in the age of advanced digital technology -- laptops, tablets, and mobile phones, all making it easier to be accessible while away. But here is one thing to keep in mind: All of these devices have an off button. Use it!
How do you feel when you request time off from work? Do you have feelings of guilt, or do your department staff members support one another when someone is away?