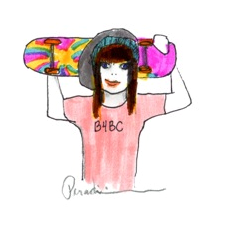 I grew up in Southern California listening to a never-ending soundtrack of The Beach Boys. Surfing, skateboarding, and snow skiing were separated by only a few hours drive.
Now I live in Oregon, where snowboarders, like mythical gods, shred snow on Mount Hood the way surfers shred sunlit waves in a California beach town. Not a surfer, skater, or boarder myself, the sight reminds me of my long-past teenage years.
Although I need to have my feet firmly planted on the ground in order to participate in any sport, I am not a couch potato. I was running on a beautiful sunny morning through a local park wondering what to write for this week's post when I saw a pavilion bearing a large banner proclaiming: B4BC: Boarding for Breast Cancer.
I interrupted my run to investigate.
The pavilion was staffed by women, Gen X and younger, wearing jeans, t-shirts, and one wearing one of those slouchy knitted caps worn by snowboarders. The team of women surfers, skate and snow boarders use the skate culture's image of health and vigor to promote breast cancer awareness and prevention through an active lifestyle for young women and men.
The group was started in 1996 by a group of women snowboarders:
B4BC (Boarding for Breast Cancer) was founded in 1996 with the goal of making breast cancer awareness and breast health a topic of conversation among young people because, in fact, young women and men are not immune from the disease.

The inspiration for B4BC was a young woman named Monica Steward, who started her battle with breast cancer at the age of 26 and passed two years later of complications that arose from delayed diagnosis. B4BC's founders -- Lisa Hudson, Kathleen Gasperini, and pro-snowboarders Tina Basich and Shannon Dunn -- hoped to honor their friend Moni by creating an event that centered around her passions of snowboarding and music while communicating the urgent importance of awareness and education.
After introducing myself as a breast cancer survivor, oncology nurse, and blogger, one of the B4BC representatives spent twenty minutes explaining their vision.
B4BC Believes In:
The power of education to inspire and impact positive lifestyle changes
The long-term benefits of healthy, active pursuits for individuals and communities as a whole
Supporting young women and those affected by breast cancer
Strength in unity and building, connecting, and supporting communities
Ultimately celebrating life at every turn, both on and off a board!
Besides fundraising through boarding and music events, B4BC sponsors nature-based programs for breast cancer survivors, as well as a yoga program. With its focus on young adults, B4BC is a resource for patients having difficulty connecting to programs traditionally designed for older survivors.
I resumed my run feeling uplifted by the DIY charm of women boarders bringing breast cancer to the attention of popular culture.