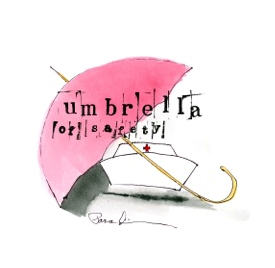 A friend and I were discussing how expensive it is to carry an individual healthcare insurance policy. The conversation went off on a tangent, and the topic of homeowner's insurance came up. Both of us know people who choose not to carry it. "I wonder why?" my friend said. "It's not that expensive, especially compared to medical insurance."
Later I continued meandering down the road of tangential thinking. That brought me to a fork in the road: personal liability insurance for nurses.
When I was fresh out of school, all bright and shiny, I bought a policy, because I saw right away how easy it is to make a serious nursing mistake. As years passed, I let the policy lapse. When I attended various new employee orientations throughout my career, hospital administrators told us forthrightly, "Nurses do not need liability insurance. Nurses are covered under the umbrella of this hospital's insurance policy. The hospital is the financial deep pocket. No one sues individual nurses." For years, this made sense. Lately, however, I've been rethinking this stance, for multiple reasons:
I frequently read stories about a hospital firing a nurse after he or she made a serious (expensive) mistake. Perhaps this occurs because of the terms of the settlement. The hospital promises a patient's family that it will no longer employ the nurse. Or perhaps the nurse violated a hospital policy or protocol, and the hospital agrees not to disclose against the nurse in exchange for laying the nurse off. Either way, the public never knows why, and for me, that's a red flag.
When a serious event occurs, the hospital's legal department works on behalf of the hospital, not the nurses involved. A nurse's legal rights and reputation are not the legal department's priority. In such a scenario, an attorney hired by the nurse, working on her behalf and covered by her liability insurance, is a good investment.
Some nurse liability policies include coverage for problems arising from social media disclosures. As a blogger, I find this holds special appeal.
I've witnessed nurses being called in by their state board of nursing for complaints and misunderstandings filed against them by patients. You don't have to be a bad nurse to have that happen to you. You also don't have to be a patient of a particular nurse to complain about that nurse. An ex-lover can make a bogus accusation, and the nursing board is obligated to bring the nurse in for investigation.
Lastly, patient acuity is increasing, as are patient care loads. Chemotherapy regimens are more complex, and medications bear similar names. As technology makes advancements, oncology procedures require nurses to achieve higher levels of vigilance -- all while I'm getting older and acutely aware once again of how easy it is to make a serious nursing mistake.
Do you carry nurse liability insurance? Why or why not?