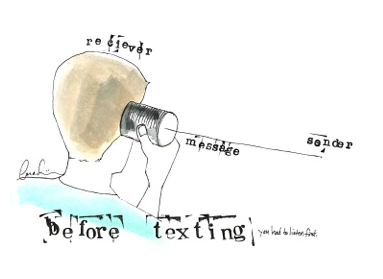 Oncology nurses spend lots of time on the phone. So much so, that I believe how to give good phone should be taught in nursing school as part of therapeutic communication. Here's a crash course developed over the years.
We all remember that communication has three components: sender, receiver, and a message:
Sender. Oncology nurses call other departments for all sorts of reasons. We call material supplies requesting special bio-occlusive dressings for a patient with adhesive allergies. We call pharmacy with questions about unfamiliar medications. We call physicians requesting new orders when a patient isn't doing so well.
Receiver. Oncology nurses also receive phone calls. Physicians call to schedule patient admissions. The lab calls, announcing we didn't send the blood tests in the right colored tubes. Someone we don't know calls and asks if his mother, who we also don't know, is done with her cancer treatment. When we ask for more information to help locate her, the caller construes this to mean we've misplaced his mother, which brings me to...
Message. Intuitively, message should be the simplest part of the communication process. Counter-intuitively, it is the most difficult, especially over the phone, where visual information is lost to the sender, the receiver, or both.
For instance, if you call a critical lab value in to an oncologist, you have the lab results in front of you on a computer screen or piece of paper, but the physician may be away from a computer while receiving this information. If the lab value is borderline for anemia, and you feel the patient would benefit from a transfusion, you would want to include the subjective information you see at the patient's bedside: headache, shortness of breath on exertion, and increased fatigue. Knowing that you are going to request a transfusion for this patient based on your clinical assessment before pushing the phone number keeps the message on track and focused on the patient.
Recently, I was the sender to a receiver (not a physician) who felt the need to do all of the talking. This impeded communicating my message. Perhaps anxiety caused her to blurt out lengthy explanations, unrelated to the purpose of my phone call. In this case, I let her talk until she needed to take a breath, then interjected, "May I give you more information?" each time, until my message was finally delivered, and we got to work on the actual problem.
Why would I devote so much time on this phone call? Because I needed the services of the receiver on the other end of the phone in order to solve the problem at hand. Telling her how busy I am, using a smug tone of voice, or getting angry with her simply slows down progress, and patient care. Giving good phone requires a purpose, an intended outcome, and patience.
What is your biggest peeve about telephones at work? Does your unit have a solution to help patients seeking information by telephone?