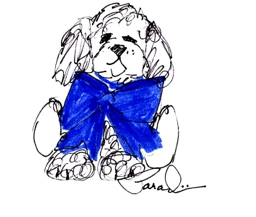 While perusing Twitter, I came across a Tweet that was actually an Instagram (a photograph) someone had posted to Twitter. The Tweeter was a mom of young children. Her photo was of a box of stuffed animals that she said, "Made the Cut" into a box for storage, as opposed to being sent to Goodwill or a children's hospital where they would probably be burned for fear of bed bugs. Sadly, our culture has moved beyond The Velveteen Rabbit.
This was remarkable, in that I had just sat down after tackling the clutter of a bookcase in my home. I've written before that I have a problem with clutter. I struggle with clutter like overweight people do with food. My problem is similarly as visible. Instead of a scale, I look about my home thinking, "Why?"
Looking at the photograph I understood that discarding toys was maybe difficult for this mother. Each one is attached to a memory of her child. Each one arrived as a special occasion now dimmed by other occasions that became more special. How do you choose, particularly when you are making this judgment for your child? If your child makes the decision, how do you know he or she has the necessary life experience to understand what constitutes a special event?
I remember a stuffed animal, a toy dog, which I discarded in high school, and now mourn its loss. For years, it sat on my Aunt Jean's bed. She was really my Mom's aunt; do people have grandaunts? Anyway, since I was old enough to remember I coveted her toy dog with curly fur. Every time I visited, almost daily, I'd ask her to give me that dog. She always said, "When I die, you can have it."
I was seven years old when I came home from school and I knew something was wrong. My dad was home from work. He and my mother sat on the sofa. They had been crying. They told me that Aunt Jean had died. She'd had cancer.
I was stunned. I knew she was sick. My brother and I had visited her at the hospital. She looked more like a witch than Aunt Jean, but I'd kissed her cheek anyway, as prompted. I hadn't understood I was saying, "Goodbye."
I cried for a week.
A couple years later, my grandmother, Aunt Jean's sister, sorted through boxes while I visited. She found the toy dog with curly fur, and gave it to me. I was ashamed. Did Grandma know I'd coveted it? That Aunt Jean told me I could have it after she died? Remorsefully, I took the dog, convinced my wish had killed Aunt Jean. I no longer wanted the dog -- I wanted Aunt Jean.
It stayed in a box in my closet for years until one day I discarded it. It didn't make the cut.
What clutter are you grieving? Do you find that your own cancer patients discuss the need to part with their belongings when nearing the end of life or even experience an emotional de-cluttering process?