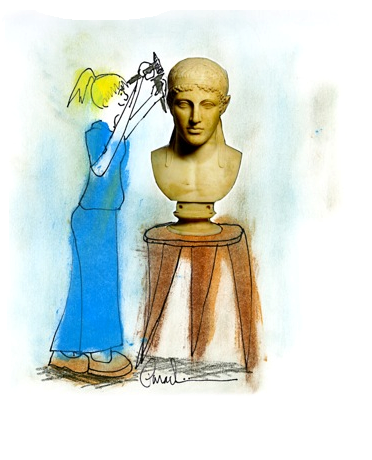 May is all warm and fuzzy with Nurse's Week and the birthday of Florence Nightingale, the founder of modern nursing. May renews the love for what my mentor once dubbed "the noblest of professions." I am a fan of Nightingale, her work, her integrity, and her devotion to nursing's science.
So, please, don't misunderstand me when I say there is a quote by Nightingale from 1868 in which I find the tiniest bit of fault.
Nursing is an art; and if it is to be made an art, requires as exclusive a devotion, as hard a preparation, as any painter's or sculptor's work; for what is the having to do with dead canvas or cold marble compared with having to do with the living body, the temple of God's Spirit? Nursing is one of the fine arts; I had almost said, the finest of the fine arts.
The troublesome part of the quote is "For what is the having to do with dead canvas or cold marble?"
As an artist with an active studio practice, I tell you that there is no such thing as a dead canvas or sculptor's stone. Technically, yes, both are inanimate objects -- no disagreement there. But anyone who puts brush to canvas or chisel to stone knows that an interaction occurs between the artist and the medium. Writers know that a blank page stares back in judgmental and deafening silence, but art is a result of the interaction between the medium and the artist.
As an art student, I told an instructor, "I just want what I paint to look like what I see in my head." Sympathetically, she replied, "That's what all artists want. It never happens."
Michelangelo said it best: "Every block of stone has a statue inside it and it is the task of the sculptor to discover it."
The personality of a canvas, stone, or blank page is manifested by its grain (tooth), flaws, and innate characteristics. With this in mind, the art of oncology nursing lies within a broader spectrum of skills than port access, IV starts, and medication administration. It includes an artist's ability to discover the unique characteristics of a patient asking for help. Nurses chisel away at fear, pain, and grief to reveal a patient's inner strengths and natural resiliency. We hold up a mirror, so our patients can see the beauty of the human spirit that we uncover.
Like canvas or stone, some patients are resistant to brush or chisel. Through devotion to our craft, we adapt our nursing skills to the realities of their character. Artists and nurses know a vision cannot be impressed upon a unreceptive surface, so we do what we can, knowing the result may fall short of our vision.
The oncology nurse's art, much like that of an artist or sculptor, utilizes the naturally occurring strengths and flaws in patients to create beauty from potential. The art exists within this interaction.