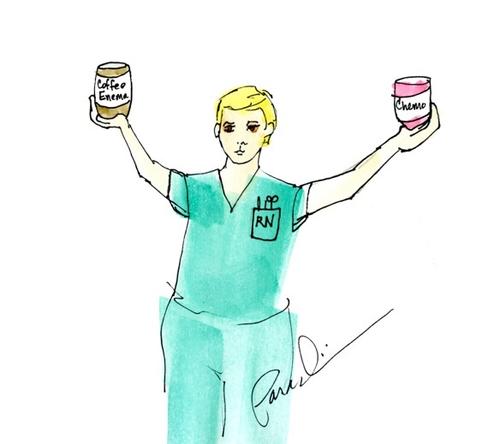 I believe, like most oncology nurses, that our primary role is that of patient advocate, and I support a patient's use of complementary medicine. Reiki, acupuncture, and herbs are common additions to standard oncology treatments. But what about alternative treatments, used instead of traditional treatment?
The Oncology Nursing Society clarifies that nurses use evidence-based practice to assess patients using alternative and complementary treatments. But what role do oncology nurses play for patients considering a treatment not well understood, because it lacks sufficient studies?
Patients seek nursing opinions on "curative" treatments available in other countries. They ask for information about coffee enemas or Laetrile. Universally, these therapies claim to cure by treating the cause of cancer, unlike Western medicine, "which just wants to keep you sick" according to some. Unable to answer patients' questions, I search the Internet for answers.
None of these alternative therapies (many of which presume cancer is caused by metabolic toxicities) have submitted legitimate scientific studies. The few existing studies rely on self-reporting from small patient populations without randomization or controls. Regardless, the firsthand testimonials are numerous and passionate.
Several scientifically supported websites offer guidance for patients seeking information about alternative cancer therapies. This one, published by the American Cancer Society, presents a general overview of the smorgasbord of offerings. The National Cancer Institute contributed this paper summarizing what is known of the Gerson Therapy, its history, and potential health risks for patients. MD Anderson researchers investigated existing studies of the Gerson program, with unimpressive results.
Some side effects of alternative treatments are proven unsafe, but, considering the side effects caused by chemotherapy and radiation, this is not always a strong argument for patients to avoid them.
An emotional component exists in a cancer diagnosis. Patients leery of medical science will often voice reasonable-sounding arguments that pharmaceutical companies may be sabotaging more "natural" methods of healing. And it's not always the patients themselves questioning chemotherapy and radiation treatments, but their loving family members wishing to leave no stone unturned in search of a cure.
In such cases, I find that answering a question with a question is helpful:
Have you discussed this therapy with your oncologist? If no, you should. If yes, what did your oncologist advise? How do you feel about that?
Where do you have to travel for the treatment? Who will provide your care?
How much does this alternative treatment cost?
Is it covered by your insurance? Why do you suppose your insurance company is unwilling to pay for a less expensive alternative to traditional medicine?
In the end, patients will choose their own treatments. As their advocate, my role is to provide education, guidance, and support to the best of my ability.
How do you educate and support patients interested in alternative therapies?