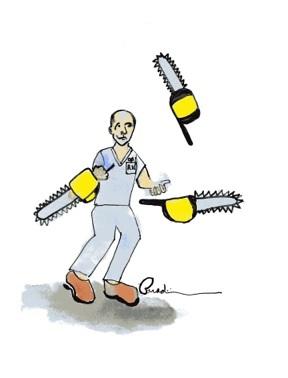 When I think about juggling cancer prevention in real life, I picture a guy juggling cordless chain saws. You just know things will get messy.
An example is a patient with lung cancer, and a long history of smoking, looking at me with the remorseful eyes of a hound that got caught chasing the neighbor's chickens. "It was a stupid habit, and now look where I'm at," he says, tears welling up in his eyes. Do all nurses experience the tears of a grown man as wrenchingly as I do? I tell him to stop beating himself up over the smoking. It is what it is. I tell him I have many lung cancer patients who have never smoked.
And it is the truth. Another patient, diagnosed with lung cancer, complains of the unfairness. She never smoked a cigarette, and is living the last few months of her life -- both of their journeys end the same way.
I've cared for patients living lifestyles as pure as Buddhist monks diagnosed with late-stage GI cancers, and babies born with leukemia discovered before they've left their mothers' breasts. I think about these paradoxes when out with friends. I enjoy a cocktail now and then. I also like a glass of good wine. As a cancer survivor, I understand that alcohol consumption is not recommended. Still, why did I fight so hard to survive if I can't enjoy good food and drink?
As an oncology nurse, I know that good health habits reduce risk, and improve the body's ability to tolerate cancer treatment. I also know that purity does not guarantee a cancer-free life.
Oncology nurses often practice avoidance lifestyles to prevent cancer risk. I listen to conversations about foods that reduce inflammation, promote healthy cells, and kill free radicals. I remember eating this way too: I gave up red meat at age 17. I never smoked, ate lots of green vegetables, and exercised. Still, cancer made a home in my cells.
I don't remember how long after my treatment I began eating food for enjoyment instead of antioxidant properties. Somewhere along the line, I realized the answer isn't so much living a preventive lifestyle, as much as it is about living fully engaged in life, unafraid. These days, I eat, drink, and am merry in a prudent, optimistic way.
Living this way is like juggling chain saws; things might get messy. Cancer may come back, as a recurrence or a completely new one, but if it does, I will comfort myself with the fact that I have enjoyed every moment of this gift of life and good health.
How do you juggle your awareness of oncology risk factors with an engaged, "normal" life? How do you accomplish this for your children? Does being an oncology nurse help or hinder a healthy outlook on life?