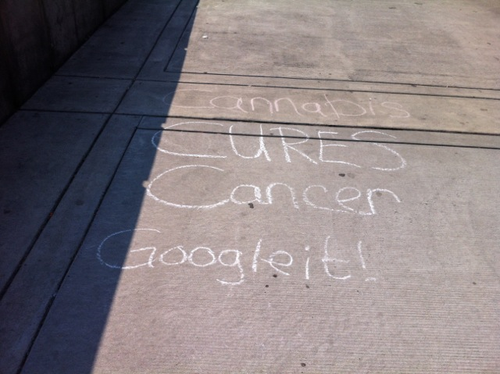 Medical marijuana is legal in Oregon, where I practice. In one sense, this seems to be an enlightened act of legislation for oncology patients who cannot tolerate conventional medications or simply prefer an herbal approach to managing pain and/or nausea. Oncology nurses share open-mindedness about complementary alternative medications, and for many, medical marijuana falls within that category.
Still, it's a nursing conundrum. The major issue is that marijuana is illegal at the federal level. Because of this, many hospitals are reluctant to allow prescription marijuana on their campuses. Although a 2009 Justice Department memo recommends that drug enforcement agents focus their investigations away from "clear and unambiguous" use of prescription marijuana, it also says users who lay claim to legal use but don't adhere to regulations may be prosecuted.
For pharmacists and oncology nurses, the problem is obvious:
Pharmacies can dispense only medications that are prescribed by licensed medical practitioners. The federal government classifies marijuana as a Schedule I drug, which means licensed medical practitioners cannot prescribe it.
Nurses can administer medications only with an order that they obtain from licensed medical practitioners.
Attending licensed medical practitioners are prevented from prescribing medical marijuana for hospitalized patients. Therefore, hospitals create policies forbidding the use of medical marijuana on their campuses. Nurses may have run-ins with patients and caregivers unfamiliar with this policy, and their home medication routine may be disrupted. If an outpatient infusion clinic is based at a hospital, it's the same situation. Patients may not use medical marijuana on campus if the hospital policy forbids it.
Though it does not happen often, I had the experience of treating a chemotherapy patient expecting to smoke marijuana between infusions to control nausea and vomiting. Initially caught off guard, I struggled to find a way to manage the situation.
This campus does not permit any smoking or the use of any tobacco products. The patient would need to wander several blocks to leave campus. When I reviewed the hospital policy, it confirmed that the medication was not allowed. I explained this to the patient, who was kindly skeptical. Reviewing the premedication orders, I saw that the oncologist had done a good job of covering nausea and vomiting with conventional medications. I asked the patient to give it a try. Always having a plan B, I reassured the patient that, if these medications didn't work, I'd call the oncologist and, if necessary, the department manager.
Fortunately, the conventional medications worked. The patient enjoyed a full sandwich for lunch and held it down. For the future, I recommended that the patient smoke marijuana at home just before appointments (and afterward if indicated).
Several states have enacted medical marijuana laws. Do you work in one of them? How has this affected your oncology practice?