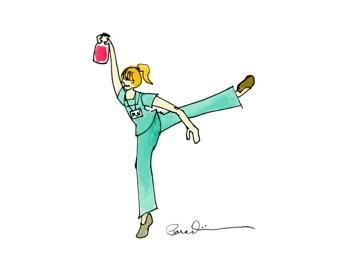 [Scarlet Lake is a hue of red paint a bit more pink than the color of blood, but Scarlet Lake sounds more romantic than Blood Red for either a ballet or blog title].
I looked like a clog-shod ballerina as I gingerly carried a 500 ml glass Vac-U-Tainer full of blood to a Bio Waste container in the dirty utility room. "Please don't let me drop this bottle and create a scarlet lake in front of patients," was my exact thought.
I'd removed the blood from a patient via phlebotomy. I always worry about breaking the bottle after phlebotomies. Let's just say my lack of talent for the ballet is apparent.
Phlebotomies are performed for the hematological condition hemochromatosis, in which patients absorb too much iron through their digestive tract. To maintain safe iron levels, patients are bled at regular intervals, preventing excess iron from depositing in vital organs.
In another room, stage right, I am transfusing two units of blood into another patient. This patient also has a hematological condition, myelodysplastic syndrome (MDS). The bone marrows of MDS patients (there are several variations) have stopped producing usable red blood cells, resulting in severe, chronic anemia. Through frequent transfusions, these patients also develop iron overload. However, while hemachromatosis patients usually present with elevated hemoglobin, MDS patients rarely achieve hemoglobin beyond therapeutic levels.
Although MDS is managed with frequent blood transfusions, and sometimes chemotherapy, because the average age of MDS onset is seventy, treating patients for iron overload is debated among hematologists. Phlebotomy is contraindicated for MDS.
Younger patients, such as celebrity Robin Roberts, may be candidates for a stem cell transplant, the only treatment with the potential to cure MDS. In that case, preventing iron overload is recommended. Iron overload is managed with chelating therapy.
Iron overload in MDS patients is managed using either Deferoxamine Mesylate or Deferasirox. Deferoxamine Mesylate is administered either in the clinic IV between units of blood, or by the patient at home.
Deferasirox is administered orally. In my clinical experience, patients using Deferasirox complain of diarrhea. It is not uncommon for patients to self-adjust their dose independently of directions, in order to control it. This symptom can be so life-limiting, that many patients admit they omit their dose altogether on days they must leave home, bringing into question the medication's true efficacy.
Do you see many MDS patients in your practice? Are they being treated for iron overload? What parameters are used to make this decision? What instructions do you provide for managing the side effects of chelating therapy?
Also, many of these patients go on to have chemotherapy and/or bone marrow transplantation. Have any of your MDS patients undergone this type of treatment? If so, how are they doing?