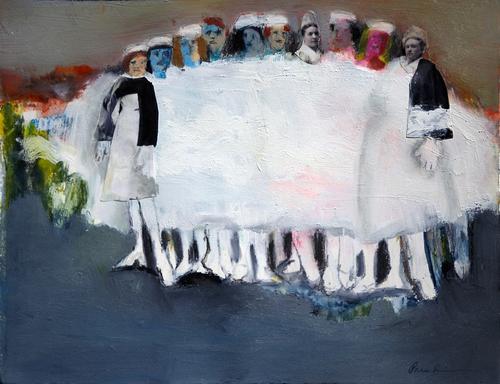 Yet again, I'm waiting in line at the post office to mail packages. Frequent readers of the JParadisiRN blog are probably thinking, "Holy carp. I thought she said she's an oncology nurse. She spends more time at the post office than in a hospital."
Actually, I don't, but I do mail packages at the post office throughout the year. This is the penalty of an ambitious child who moved far away from some of the people she loves most in the world to follow her dreams. Mailing gifts acknowledges the birthdays I am not present to celebrate.
I've noted similarities between hospitals and post offices before. Today's line is much shorter than the one at Christmas. Moreover, the season's change is signaled by all the coughing and runny noses among those waiting.
The worst cough belongs to a woman already at the window loudly questioning the clerk about every conceivable option for mailing a midsized envelope. Her hair is held in a messy ponytail by a twist tie, revealing a rash on her pale face, which is positioned 18 inches from the clerk's face. The woman coughs often, lifting her countenance to the ceiling and covering her mouth with her fist while turning her body 180 degrees. This creates the effect of a Rain Bird sprinkler, spraying fat water droplets (or, in this case, respiratory droplets) upon the clerk and throughout the lobby.
It gets worse. After 20 minutes of asking questions and coughing, the woman tells the clerk, "Thank you," puts her envelope into a tote, and leaves without mailing it. I fear the people in front of me may knock her senseless, but she leaves unmolested. At the same moment, another clerk returns from a back room, looks at the long line, and says to the first clerk, "You certainly fell behind while I was on break."
Looking exasperated, the soggy clerk responds, "I had a person asking a bazillion questions." She beseeches us in line for support. One customer says, "You were very kind." The others nod in agreement.
What does this story have to do with oncology nursing? Directly speaking, not much. Yet I can't help but connect the similarities between the postal clerk, nurses, and the special qualities required to work with the public, sometimes at the risk of our own health. Topping this encounter with criticism from a coworker who's unaware of these special qualities after a particularly stellar performance dampens the spirit, like water from a Rain Bird sprinkler.
The lessons learned: Our jobs are hard. Be kind. Look for the positive in coworkers and in yourself. Don't wait until Nurses' Day to recognize staff and colleagues.