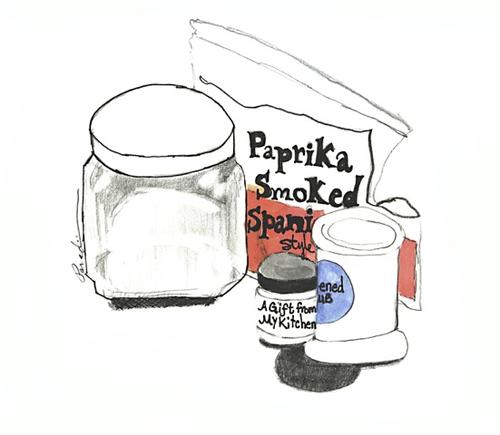 Holiday preparations do not only mean added stress. They are usually accompanied by a cornucopia of cookies, candies, and delicious home-baked treats we've waited for all year. From Thanksgiving through New Year's, Americans celebrate the Season of Eating.
Oncology nurses are familiar with the studies pointing out that a healthy weight contributes to cancer prevention. (See Moving From Knowing to Doing.) We also know that antioxidants are better absorbed when they occur naturally in foods, rather than ingested as isolated supplements. Balancing the joy of holiday eating with good nutrition and weight control is a form of self-care, and it's one way I entertain myself when confronted with a bout of artist's block. Mixing spices and colorful vegetables with the deep pink of salmon, for instance, creates an inspirational palette of color and flavor.
With this in mind, I am sharing my original recipe for blackened spice rub. It lends itself to a quick, home-cooked dinner on nights when your shift runs late or you've been holiday shopping. It contains antioxidants, and if you broil the meat, it's low in calories, too. You can make large batches of the spice mix and store it in small, airtight jars to give as Christmas or hostess gifts from your kitchen.
Blackened spice rub
Makes enough to moderately coat 1-1.25 pounds of boneless chicken thighs or breasts. It can also be used for salmon, shrimp, burgers, or steak.

3-4 tablespoons smoked paprika
1 tablespoon dried oregano
1/2 teaspoon ground ancho chile (or to taste)
1/2 teaspoon garlic powder
1/2 teaspoon ground cumin
1/2 teaspoon salt (or to taste)
1/4 teaspoon fresh ground pepper
Combine the ingredients in a clean one-gallon food storage bag. Place up to 1.25 pounds of washed and dried chicken pieces (or the meat of your choice) in the bag. Twist the top closed, and shake the bag until the chicken is evenly coated with the spice rub. That's it.
Cook the meat as desired. Charring on the grill is known to produce carcinogens. (See: Are You Killing With Grilling?) But this is usually how I cook the chicken, though I have had excellent results with an oven broiler. You can also sautť or stir-fry the meat in a pan, using a teaspoon or two of olive oil. This rub can also be used as a coating for blackened dishes, though that means a higher calorie count.
Serving suggestion: Once cooked through, slice the chicken into half-inch-wide strips, and place it on a salad of pre-shredded cabbage (available at most grocery stores). Add a tablespoon or two of slivered almonds, diced red onion, and low-calorie honey mustard dressing.
Will you be giving a personalized gift from your kitchen this year? If so, what will it be, and will it be healthy?