Last year around Thanksgiving, I was sitting in an oncology office, waiting for a friend who was scheduled for a chemotherapy infusion. I'd volunteered to accompany her.
It was not the infusion clinic I work for, but, like ours, this waiting room was decorated cheerfully for the holidays. Unlike ours, however, an easel stood in a prominent corner, holding a foam board display with recipes pinned to it.
Written in Sharpie, the board announced that the recipes were those of the oncology clinic's staff. Beside each, the person supplying the recipe wrote a brief paragraph or two describing why it was his or her favorite holiday recipe.
Patients were encouraged to take copies of the recipes as gifts from the staff. One nurse, instead of providing a recipe, described her favorite local restaurant for Thanksgiving dinner, and included directions, because she preferred to avoid cooking holiday meals and felt some families might want to do the same during cancer treatment.
I read each story and picked up a recipe or two. It was a wonderful way to for this oncology team to give a gift to patients, and to one another.
In this spirit, Iím giving you my Fancy Cranberry Sauce recipe in time for Thanksgiving.
I have made homemade cranberry sauce since I was a teenager. This fancy sauce began with a recipe on the Internet, but I made a significant twist by substituting red wine for water, and omitting another ingredient. The consistency is similar to chutney.
I always cook with wine, and sometimes I put it in the food.
A plaque in my Mom's kitchen
While I know of no studies to support the health benefits of cranberry sauce, many of this recipe's ingredients have been described on TheONC as cancer-fighting foods. I've included this information in the links.
Fancy Cranberry Sauce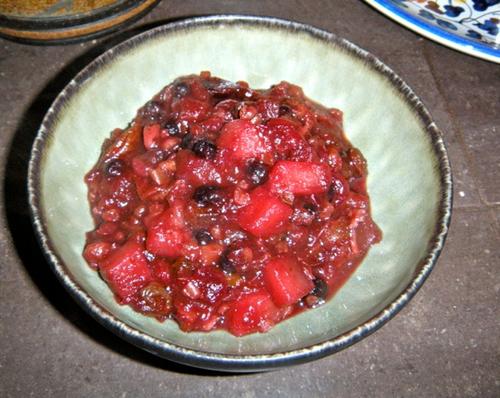 Ingredients
1 cup red wine
1 cup sugar
1 (12 ounce) package fresh cranberries
1 orange, peeled and pureed
1 apple -- peeled, cored and diced
1 pear -- peeled, cored and diced
1 cup chopped dried mixed fruit (I used a dried berry and raisin mix, but mango, papaya, and pineapple would be fun)
1/2-teaspoon salt
1-teaspoon ground cinnamon
1/2-teaspoon ground nutmeg
Directions
In a medium saucepan, boil water and sugar until the sugar dissolves. Reduce the heat to simmer, and stir in cranberries, pureed orange, apple, pear, dried fruit, salt, cinnamon, and nutmeg.
Cover and simmer for 30 minutes, stirring occasionally, until the cranberries burst.
Remove from heat, and let cool to room temperature.
Makes 12 servings
Happy Thanksgiving to all of my colleagues at TheONC; being part of our community is one of the blessings for which I am thankful.