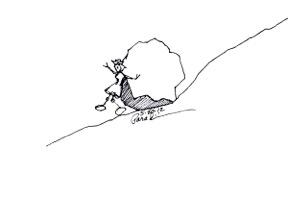 Preciosity is the over-refinement in art, music, or language, especially in the choice of words.
I am struggling with preciosity while writing this post. A clever idea just isn't coming to me, and I feel distress, because I need to wrap it up. If I cannot write something profound, then at least I should be interesting.
Preciosity is an art term with a negative connotation. An artist should never hold something she makes so precious that she cannot bring herself to change or even destroy it, because the bit of paint or brush stroke that's considered precious enslaves the painting.
Writers are familiar with preciosity. Sometimes the best-loved words are the very ones that need to be edited to clarify the thought. Any precious bit the artist insists on retaining becomes an obstacle to the larger creative process, very often ruining the end result.
Being an oncology nurse also requires a resistance to preciosity. Our best care plans are never perfect. A beautifully constructed work schedule becomes overwhelming, because of a staff sick call or unexpected admissions. We administer a medication, and the infusion is delayed or halted, because the patient has an allergic reaction to it. We are disheartened by the recurrence of disease in a favorite patient. On very bad days, we make an error.
There is no preciosity allowed in either art or oncology nursing. Everything is up for grabs and can change in a heartbeat. Nurses striving the hardest for preciosity are the most doomed to disappointment in colleagues, patient outcomes, and themselves.
A good day of patient care cannot be summoned on command from a nurse any more than a masterpiece can be summoned from an artist or the next great American novel (or a blog post) can be summoned from a writer. Some days, both in nursing and in art, the best you can do is show up and try your best.
At the end of a shift, you may have made someone feel better, but perhaps all you did was keep that person from getting worse. Likewise, after painting all day, you may end up taking a palette knife to the canvas and scraping all that newly applied paint to the floor, so that you can start again tomorrow.
Seated in my favorite chair while writing this post on a laptop, I struggle to keep myself from deleting it. Some days, both as an oncology nurse and as an oncology blogger, this is the best I can do.