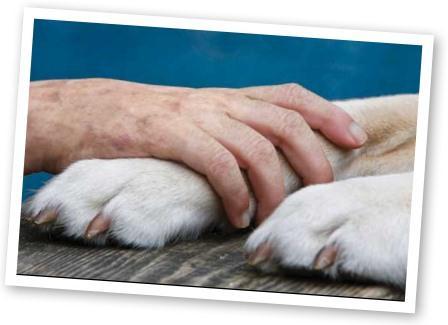 Several years back when I was helping with on call for our hospice, I made a ďdeath callĒ to a patientís home. The caregiver called in the middle of the night to report that her patient had just died. I did not know this patient personally, but it was my job to help everyone in the home with the arrangements after death.
The patientís son arrived just after I did and after an opportunity to talk about the events of that night, the son announced that he would take his motherís two cats to the pound in the morning. I was dumbfounded when I heard him say that. I learned from the caregiver that the cats were beloved companions of this patient for more than 10 years. They had been at her side throughout her illness and were in fact with her when she died. Being older cats, I knew chances of them getting new homes through a municipal shelter were low. There would also be the trauma of separating these two cats.
I did not know this son at all until that night. I appreciated that he was overwhelmed with all that needed to be done after his motherís death. I tried to think about things from his perspective. But all I could think about was what his mother would think about his actions and how he was dishonoring his motherís memory by not caring for her beloved companions.
I asked him to wait a while before acting on his plan to take the cats to the pound. I did some research in the morning to find some no-kill rescue organizations that might be options. It was going to take some work to find options for these cats, but I emphasized what his mother would want.
Natural rescue groups are usually inundated with older animals. I never spoke to the son again after that call, so I donít know what happened to those cats. But I learned something that night that I was able to implement for our hospice. Every patient with pets would have a written plan in place for care of these animals after the patientís death. That would be an expectation of our hospice.
We had several in-services from local animal rescue groups and made some connections that helped future patients. I hope this becomes standard practice in all hospice programs. Of course there are also many hospice staff members that have taken in the animals of their patients.
This brings to mind that all of us have a responsibility to have a plan in place for the care of our pets if some calamity happens to us. Each of us should make some kind of arrangement for the care of our animals in a will, estate plan, or in a verbal agreement from a friend that someone will watch out for them should anything happen. This is not pleasant to think about, but it is a responsibility as a pet guardian.
I would love to hear from other hospice nurses about how you have helped in the care of your patientís pets.