ScienceDaily reports that a new study from the Linus Pauling Institute and the College of Public Health and Human Sciences at Oregon State University shows a zinc deficiency can cause "a decline of the immune system and increased inflammation associated with many health problems, including cancer."
As our elderly population grows, such findings become increasingly important. As we age, we don't consume enough zinc, and our ability to absorb it properly lessens.
According to the Office of Dietary Supplements (ODS), zinc is important in cell metabolism. "It is required for the catalytic activity of approximately 100 enzymes and it plays a role in immune function, protein synthesis, wound healing, DNA synthesis, and cell division," the ODS says in a fact sheet on the mineral. "A daily intake of zinc is required to maintain a steady state because the body has no specialized zinc storage system."
Vegetarians, people with sickle cell anemia, people with gastrointestinal diseases and/or chronic diarrhea, and people with malignancy are among those very susceptible to zinc deficiency, the ODS says. Adult women who are not pregnant or lactating should be getting 8mg daily. Men should be getting 11mg.
Where to find zinc
The ODS says the best food source of zinc is oysters (74mg per serving), followed by beef chuck roast (7mg) and crab (6.5mg). Of course, dietary supplements are also a great source, especially for vegetarians.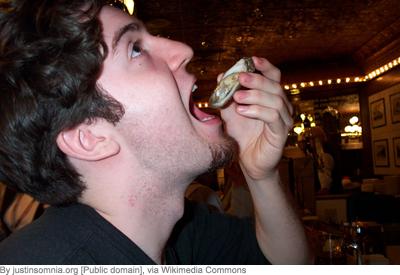 Few people are ever tested for this deficiency, but the great news about a zinc deficiency is that it can be reversed. In the OSU study, when older, zinc-deficient animals were given "10 times their dietary requirement for zinc, the biomarkers of inflammation were restored to those of young animals." But the researchers are quick to mention that consistent intake of too much zinc should be avoided.