I love the Olympics -- the mix of sports and patriotism just gets me. Throw in my job as one of TheONC's community editors and my focus is changed a bit: Olympian cancer survivors.
Team USA has had several in the past, at least two currently, and will have more in the future, I'm sure. One Olympian-survivor is beach volleyball player Jake Gibb, who has seen cancer not once, but twice in his lifetime.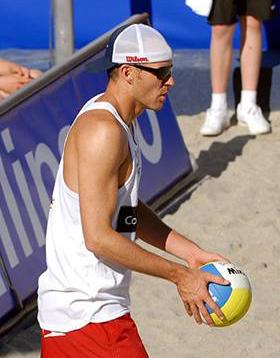 In 2004, Gibb had skin cancer successfully removed from his shoulder.
In 2010, however, Gibb received another cancer blow. During a routine drug test, Gibb was suspended by the US Anti-Doping Agency (USADA) for having abnormally high levels of alpha fetoprotein and human chorionic gonadotropin (beta-hCG), a sign of steroid use. According to FoxSports.com, "beta-hCG is often taken by steroid users to combat testicular shrinkage that is a side effect of the performance-enhancing drugs."
However, the USADA tester made it a point to tell Gibb to see a doctor immediately but wouldn't say why. Gibb would find the answer on the Internet: testicular cancer.
The cancer was confirmed, the doping charge dropped, and Gibbs headed toward surgery instead of the Olympics. However, something amazing happened. The day before Gibb's surgery to remove one testicle, he found out his wife was pregnant (their son Crosby was born almost a year ago), and the surgery was so successful that Gibb would not require chemotherapy. He was able to get back on tour with his partner, Sean Rosenthal, and earn enough points to qualify for the 2012 games in London.
Jake Gibb is like many cancer survivors -- his diagnosis came unexpectedly, he was uncertain about its impact on his daily life, and it turned his professional life upside down. If you'd like to learn more about Gibb and his journey with cancer or use his story to encourage your patients, watch the video on his Website.