What is a staycation? A simple definition is a staycation is a vacation you take at home. However, the more important meaning in the staycation definition is how a person defines vacation.
Is a vacation a getaway without the kids? Or are vacations all about the kids? Is it quietness and relaxation? Is it more about getting stuff done -- home projects or riding all the rides at the amusement park? A vacation should be about doing something that is not in your normal routine.
Once you figure out what a vacation means to you, you can figure out what your staycation looks like.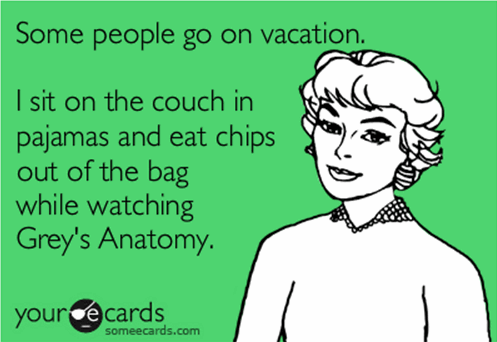 (Oh, and what a vacation looks like to you may not be what you are currently doing, keep that in mind.)
If you google the word "staycation" and your hometown you'll find a deluge of ideas and sites on how to have one that is great. However, don't let Google or the local Chamber of Commerce dictate your staycation experience.
Fill in these blanks. Before you answer these statements, it may help to stop and think about your days off and what consumes them.
I never ______. Stop and think. This is about the "fun" things you don't do. Go to the movies? Get a manicure or pedicure? Eat out? Wear makeup anymore. Have date nights.
I always ______. Again, think before you answer. This is about your behavior. Do what the kids (or my spouse or best friends) want. Spend time with other people. Watch TV to unwind.
I want to ______. This is a combination of doing and behaving. What are things you keep putting off doing because they seem silly? Try sushi. Go dancing. Take a Wednesday off and go to the museum (or zoo or water park).
Now bring all of those things together. For example, let's say your vacations are consumed with "kid things" but you'd actually define a vacation as relaxing, quiet time. You also said you never get a pedicure, you always spend time with other people, and that you want to try sushi.
Your staycation is taking a day (midweek, on a Saturday whenever you can have a day to yourself) to be by yourself: get a pedicure and then treat yourself to sushi.
Your current vacations are committed "getaways" with your sweetheart. You rarely go to the movies anymore because you watch TV to unwind and you want to see the zoo (because as long as you've lived there, you've never been).
Your staycation: grab the kids or grandkids (or a niece, nephew, your friends' kids) during the week (this is important) and go to the zoo or a kid-friendly movie.
You may not think these will work but when you do things out of the ordinary, it reboots your mind and energizes you. It makes you think differently. I realize going in the middle of a work week may be "impossible" but it isn't, it will however take planning and it is worth it.
Your assignment
Plan one staycation for yourself in the next four weeks based on what you filled out above. Tell us below what you're going to do.